(PLO) -Gifting eco-friendly bags for people going to the market, supermarkets, not using and providing plastic bags throughout the Co.op system … are practical activities to minimize the use of bags plastic
Recently, in Hanoi, the Ministry of Natural Resources and Environment in collaboration with the Central Youth Union of Ho Chi Minh City organized a campaign to launch the movement against plastic waste. At the launching ceremony, Prime Minister Nguyen Xuan Phuc called on every citizen, agency, organization to join hands in "Saying no to plastic waste" to protect the environment and our own life, to protect the future of our children and grandchildren. Accordingly, many people and businesses have taken steps to reduce the use of plastic bags.
Protect "green lungs" Can Gio
in order to promote the implementation of the "Anti-plastic waste" movement, the Department of Natural Resources and Environment of Ho Chi Minh City in coordination with the People's Committee of Can Gio district organized a rally to launch the reduction of the use of plastic bags, in Thanh An island commune, Can Gio district.
At the rally, BTC presented 50 (environmentally friendly) baskets for going to the market for 50 households in the commune and 20 small traders on the island signed a pledge not to use plastic bags.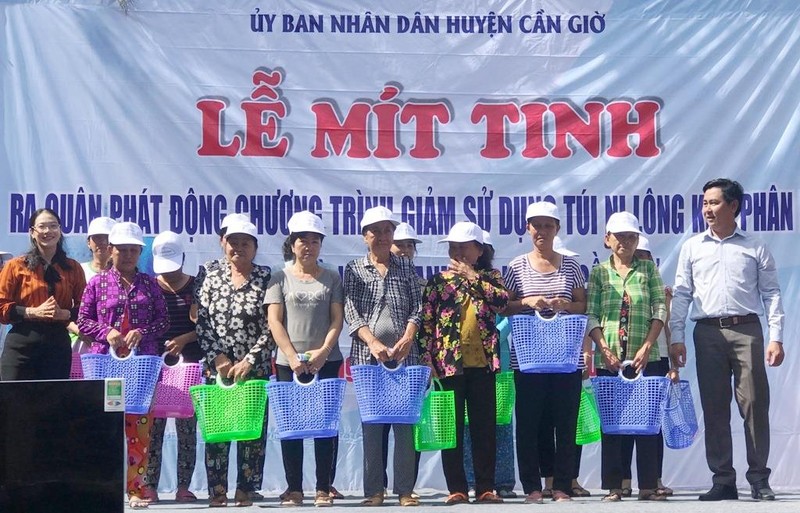 At the meeting, Ms. Nguyen Thi Thanh My, Deputy Director of Ho Chi Minh City Department of Natural Resources and Environment, said that Can Gio district is the only city in Ho Chi Minh City that is adjacent to the sea and has potential for development in aquaculture. Tourism is also vulnerable to environmental pollution and climate change. Waste generated if not properly disposed, not collected and disposed of is not only bad for landscapes, environmental pollution, destruction of marine ecosystems, and direct impacts on the health and living environment of population and marine resources, affecting the potential for fisheries and tourism.
In order to preserve and protect the existing green resources, Can Gio district needs to promote propaganda to raise awareness and encourage people to participate in environmental protection with content not to be disposed into the street. to the sea, sorting waste at source, delivering garbage on time and putting garbage in place, minimizing the use of hard-biodegradable plastic bags and disposable plastic products; take effective measures to prevent pollution from tourism activities and from tourists; completing the organization of collection, storage, transport and waste disposal in the area, Ms. My said.
Saigon Co.op: Plastic bagless day
In order to spread the awareness of protecting the environment and stimulating consumer demand and supporting the identification of green products to consumers, Saigon Co.op organized the promotion program "The 10th green consumption". Accordingly, all over the retail system of Saigon Co.op, including: Co.opmart, Co.opXtra, Co.op Food, Co.op Smiles, Cheers … simultaneously perform many activities calling for consumers to buy. Green and energy-saving products to protect the environment.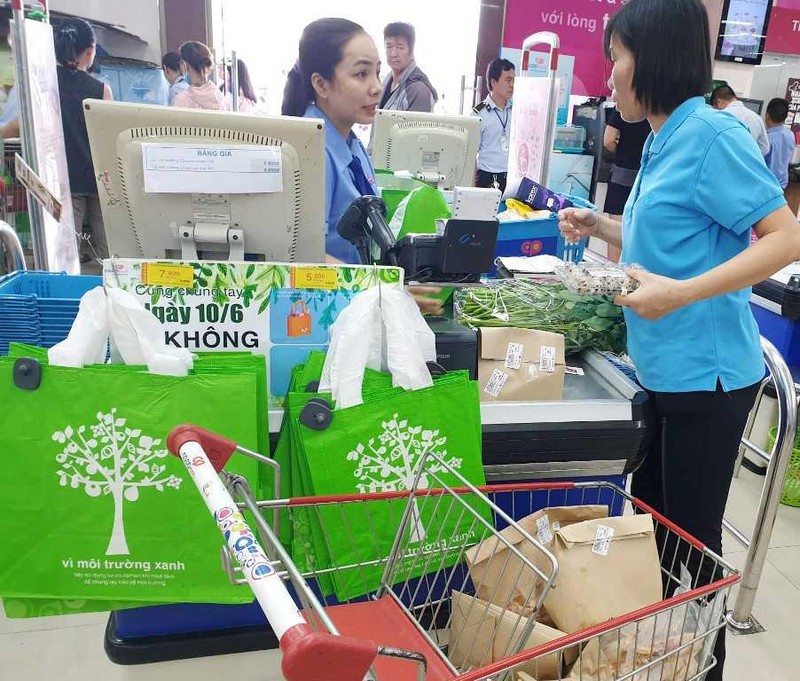 Besides, Saigon Co.op will select June 10 as "Plastic Bag Day". At more than 750 supermarkets, convenience stores … of Saigon Co.op will not use plastic bags and encourage customers to use paper bags, cartons, environmental bags, eco-friendly cloth bags school when shopping. In addition to reducing the price of eco-friendly products, in "Plastic Bagless Day", Saigon Co.op supermarkets also arrange "Green cashier", giving priority to quick charge for customers who choose to buy. many green products.
According to Mr. Huynh Anh Tuan (living in Tan Binh, Ho Chi Minh City), "It is necessary to minimize the use of plastic bags, because it greatly affects the environment and human health. In my opinion, carrying bags to market or sorting plastic bags at home are small actions, but they contribute to protecting the living environment. In my family, almost every time I buy, very few use disposable plastic bags ".
Ms. Hoang Ngoc Thanh (District 12, Ho Chi Minh City) shared: "Every day, the amount of plastic emitted is huge and harmful to our living environment. Therefore, each individual should limit the use of plastic bags. My family now buys grass baskets to go to the market ".